Newborn Photography Maitland
Leighsa Cox Photographer
Capture those First Precious Moments with
Newborn Photography Maitland
Pregnancy and having a new baby is such a fleeting time in your life, the round belly that keeps you awake at night that turns into an amazing new life that continues to keep you awake at night! Everything changes so quickly- your body, your schedule, your emotions. Leighsa Cox Photographer does Newborn Photography Maitland and can help freeze time with your baby.
Bringing a new baby home is a magical time in your life and it is so important to capture it so you can remember it through the haze in the years to come.  I like to capture those moments in a relaxed, unstressful way – with you comfortable to cuddle and comfort you little one while capturing those precious memories.
Being locals, I love newborn photography Maitland. I am more than happy to travel to your Maitland home to photograph this special time in your life or we can use our Hunter Valley Studio located in Lorn.
What's Included in Your Newborn Photography Package?
A newborn photography session is $150.
This covers:
the photo shoot in studio or in your home
all editing
a viewing session
plus $50 credit to go towards prints
Leighsa Cox Photographer
Lorn, NSW 2323
hi@leighsacoxphotographer.com.au
Like Us on Facebook
to see specials and recent work
Newborn Photography in the Greater Maitland Area including:
Paterson
Dungog
Kurri Kurri
Cessnock
Raymond Terrace
Industry Professional
I am a member of AIPP as an accredited professional photographer. I use state-of-the-art Canon technology to ensure your wedding photography is of a premium standard so you can remember your special day forever.


Got a question? Contact me!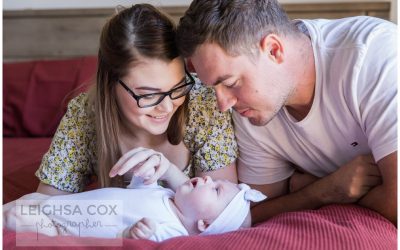 Baby girl Hunter Valley Cheeky baby girl with her loved up parents in their Hunter Valley home xx I was kinda devastated when we had to postpone Miss Loralai's newborn session because of the virus risks and restrictions, but so happy when we finally got to meet! At 9...